Welcome to my Cosmic Encounter WWW Index page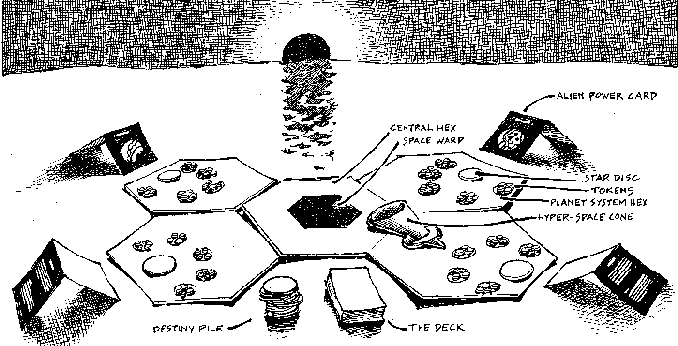 (Image is from Eon original version. Many things are different in other version such as the Destiny Pile uses Cards, not Discs).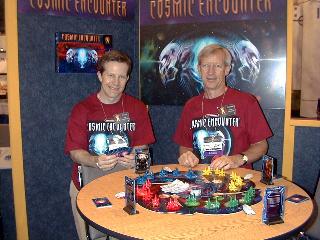 The image at the left shows Greg and Peter Olotka demonstrating the Hasbro/Avalon Hill version of Cosmic Encounter at GenCon (10/20/00). The current version is the Fantasy Flight version which has a number of expansions. There is a nice article on the history of the game at: http://www.eurogamer.net/articles/2016-03-06-the-making-of-cosmic-encounter-the-greatest-boardgame-in-the-galaxy.
I have developed these pages as an aid to the Players of the board game Cosmic Encounter, orginally put out by Eon and later produced by others such as West End Games, Mayfair Games, Hasbro/Avalon Hill, and now Fantasy Flight. There are already a couple of useful sites relating to Cosmic but none which include all of the available links and information. In particular, the expansions and other ideas posted to the newsgroup rec.games.board.ce are not available anywhere. Special thanks to Steven Staton, Kurt Adam, Bryan Bowe, Jack Reda, and all posters to the CE newsgroup.
For those interested in purchasing the game, you can purchase the currently in print Fantasy Flight version or you can search for an earlier long out-of-print version. The Eon set is out of print and generally very expensive when individuals do sell it. The Mayfair set and its expansions (CE) are also out of print and expensive to get when sold on eBay or the like.
Disclaimer: All of this material was freely posted to the newsgroup rec.games.board.ce or is available on the Web. Unless an author objects to his material being here(in which case I will try to remove it) this material is freely available for your use as long as you follow the restrictions which may be listed in a given article. NO guarantees are made to the accuracy, completeness, or anything else of any of this material. The material is distributed as is and may or may not be useful to you. In some cases, I have done some minor editing to individual articles, primarily to improve the formatting by restricting lines to 80 characters in length and moving the news headers to the bottom of the articles. In the very few places where I have actually added any material, it will be noted by the notation (ADF).
Aaron's Requests
My email address is aarondf@bu.edu so send your comments and suggestions there.
If you have any updates to present information or more recent/different/interesting info that might be good to have as part of this page please let me know.
If there are any other CE pages or material out there, let me know about it and I will add links as appropriate.
Cosmic Notes (also, read the FAQ)
Abbreviations/Short Forms:
CE or Cosmic - The game Cosmic Encounter, all variations.
FF CE - Currently in print Fantasy Flight edition.
AH CE - Avalon Hill edition. Rules are basically those of the Eon version but many names are changed.
Mayfair Version - Mayfair version of Cosmic Encounter, includes MCE.
Mayfair CE - Mayfair "Cosmic Encounter" set, does not include MCE.
MCE - More Cosmic Encounter, the Mayfair Game expansion set.
Eon Version - Old Eon version of Cosmic (see below).

Major Differences in the Eon Version: (from the Mayfair Version)
See this newsgroup discussion of other differences in the versions.
1) Lucre add to total in challenges. Each player starts the game with 4 Lucre and gets 1 additional Lucre per turn. Lucre can be used only to buy tokens from the Warp(/Praw) or cards from the deck on a one-for-one basis. Our house rule on conversion from Mayfair to Eon Lucre amounts is 'divide by 3 and round up'.
2) Flares, unless they specifically say they are "discard after use", are multiple-use. You can continue using most flares as often as appropriate until you get a new hand or the flare is flare-zapped or you lose the card. See the link to the Full Eon Rules below. This applies to both Wild and Super Flares.
Note from Tom Smith at Mayfair Games regarding Mayfair's current plans for future CE expansions. (7/19/96)
Mayfair is out of the Cosmic business and the license to the game is now available again. Details on this are thanks to Nick Sauer's post to r.g.b.ce. (6/20/97)
Other Cosmic Encounter Sites
CE Expansions off the Net (latest version I have a copy of)
Powers (Format: Power Set Name (# of powers))
Moons (Format: Expansion Name (# of moons))
Cards (primarily card-based expansions)
Tokens (primarily token-based expansions)
Files off the Cosmic FTP site (uncompressed text version of .zoo files)
Prisoners (directory, 5 files)
Nick Sauer's Powers (directory, 3 files)
---
Access Count
Maintained by:
Aaron Douglass Fuegi (aarondf@bu.edu)