New Voices and New Visions
for Engaging Native Americans in Computer Science
New Voices and New Visions for Engaging Native Americans in Computer Science is a collaborative project between Boston University (BU) and University of New Mexico (UNM), funded through NSF's Broadening Participation in Computing program, and in close collaboration with Walatowa High Charter School and the Pueblo of Jemez. This 36-month project combines Native American culture and art with a high-technology, computer-rich environment as a vehicle to engage Native American students in computer and computational science. The project employs the Access Grid (AG), virtual reality technologies and Boston University's stereoscopic Deep Vision Display Wall (DVD Wall) to create a culturally and technologically compelling educational experience. We are using a holistic and interdisciplinary approach that incorporates Native American pedagogy, culture and visual aesthetics, computational applications (digital media, VR, 3D animation, DVD Wall, AG), and computer science concepts.
The focal point of our research is a new project-oriented, interdisciplinary course which is cross-listed between Native American Studies and Computer Science at UNM, and taught in a revised version at the Walatowa High Charter School. Instructors at all locations are using the context of virtual reality to introduce the students to a variety of computer science concepts and computer technologies.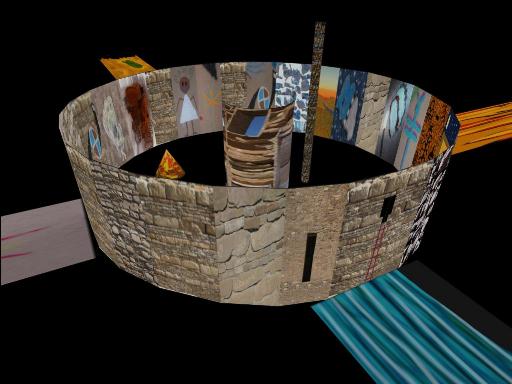 This material is based upon work supported by the National Science Foundation under Grant No. CNS-0540484.