Wonderland Trail: Our Gear
We were generally quite well equipped, particularly Doug. Neither of us really had to buy any new equipment for the trip as we were both experienced hikers and already owned the necessary equipment. The image below shows most of Doug's initial gear laid out for the trip.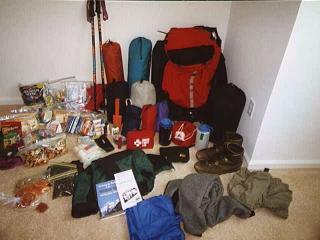 We each carried all our own personal equipment and split the shared equipment although Doug ended up with more of it (perhaps a 60-40 or 55-45 split). Doug also carried more food, clothing, and backup/emergency type of extra stuff; between these factors, his pack ended up being far heavier (around 45-55 lbs) (of course the pack itself was heavier as was his sleeping bag but the pack was also designed to hold more so this offset the added weight a bit). Aaron was careful to only carry slightly more than he really thought he would need and judged it pretty well (Aaron's pack weighed around 30-40 lbs).

In terms of food, we planned the trip as an 11 day trip and figured we would always carry a spare dinner. We cached food via mail at two locations: Mowich Lake and Sunrise ranger stations (projected as days five and eight). Each location had two boxes which proved to be better than one box at each (see day four). We ended up cutting a day off the trip early so we hit each cache a day early.

As a result of all of the extra food Doug was carrying, we managed fine even when we discovered that one of the two boxes at the first cache had been stolen by the time we arrived there: quality went down but quantity was not a problem. At the second cache, Doug ended up dumping a huge amount of extra lesser quality food for the ranger and other hikers to use.

Packs: Dana Design ArcLight Glacier Internal Frame (Doug) with side pockets (around 7000 cu. inches capacity total) and old Kelty External Frame (Aaron) - Aaron thought about buying a new internal frame pack but ended up settling for staying with his tried and true Kelty and it worked very well for him. Despite externals being perfect for the Wonderland Trail, internals outnumbered them by a large factor (popularity over practicality?).
Tents: We each had a North Face Tadpole (1.5 person tent) - we thought long and hard about renting a bigger tent to share and save a few ounces but ended up deciding the comfort was worth carrying two tents - we never regretted this decision.
Sleeping Bags: Synthetic plus ThermaRest inflatable pad (Doug) and Down plus RidgeRest pad (Aaron). Synthetics stay warm even when wet so while they are heavier it may be worth it, particularly in as wet an area like Rainier.
Boots/shoes: Leather hiking boots (Doug) and standard New Balance sneakers (Aaron) - Aaron has always hiked in sneakers and stuck with them; however, although they did fine for the first half of the trip, his ankles were in pain for the rest of the trip and he somewhat regretted this decision for this long a trip. Despite Doug's waterproofed all-leather boots, water still crept in through unsealable cracks. Synthetic liner and outer socks made wet feet survivable.
Clothing: GoreTex jackets (Aaron's leaked), pack covers (Doug's leaked), Fleeces, jeans (Aaron), polypro shirts, shorts, rain pants, gloves, hats, etc...
Stove and Cooking Gear: MSR Whisperlite stove (Carried by Doug with both of us carrying fuel bottles - we ended up with way too much fuel.) We had one pot with a frying pan lid and a small 8 oz cup (Doug) and Sierra Cup (Aaron) - minimal but as much as needed. Pre-trip testing indicated that 22 ounces of fuel would be enough for two people for eleven days. This proved to be correct for our particular stove, elevation, etc. Stove use was limited to two efficient starts per day, boiling at most 32oz. in the morning and 32 oz in the evening with no real cooking... not to mention simmering! We took a total of 44 ounces of fuel for emergencies: possibilities ranging from a longer trip, to unexpected cold weather, to water purification purposes.
Water Filter and Bottles: MSR WaterWorks (carried by Aaron) - this caused us big problems, unexpectedly. Doug carried 2 large Nalgene water bottles and Aaron 1 large and 1 small. Aaron also brought along a very useful and super-light 2 gallon water sack. The field maintainability of the MSR filter proved critical. The second filter clogged and we were able to remove it and use just one (and clean it too). The glacier driven rivers are filled with ground up rock powder and clog fiters quickly. Coffee filters attached to the intake hose were used a few times as a pre-filter.
Food: Freeze-dried Mountain House dinners, freeze-dried granola breakfasts (Doug), homemade freeze-dried apples and beef jerky, lots of SwissMiss hot cocoa mix, Crystal Light Lemonade packets, 'chewie' bars, GORP (Doug), chocolate bars, Health Valley fruit rollups (Aaron), etc...
Map and Guide Book: Guide book: "Discovering the Wonders of the Wonderland Trail, Encircling Mount Rainier" by Bette Filley. This book is a good source but don't trust every elevation gain/loss figure as exact. Maps: Trails Illustrated's "Mount Rainier National Park", map #217 and the standard park map from the rangers.
Bug Repellent: We were initially very worried about the bugs and almost changed plans on where to go after reading one awful report. Aaron was particularly worried about really bad bugs. As it turned out, the bugs were only moderately bad and we had Citronella repellent, super-strong OFF (never used) and head netting (Aaron).
Poles: Pair of Leki adjustable ski poles (Doug) and single Leki Explorer hiking pole (Aaron) - the poles were wonderful, Aaron continually adjusted his pole for length with every variation in slope.
Camera: 35mm (Carried by Doug with three rolls of 36 exposure print film.)
Miscellaneous: '10 Essentials' type stuff: Swiss Army knives, flashlights, TP, bandanas (Aaron had Many of these), matches, lighters, rope, plastic bags, stuff sack, medical kits (we each had one), repair stuff, toothbrush & paste, soap, compass, sunglasses, journal (Doug), candle lantern, parachute cord.

Afterthoughts on gear: Check gear for waterproofness. Test vital things in advance. Individually bag everything to avoid it getting wet.
Gear that unexpectedly caused us problems:
Pack cover (Doug) - leaked, pack lid (Doug) - leaked, Goretex rain jacket (Aaron) - leaked, leather waterproof boots (Doug) - leaked, water filter - had numerous problems with clogging, pack belt buckle (Aaron) - kept coming undone on its own, our clothing and tents took too long to dry.
Commentary:
We were equipped as modern hikers, willing to spend money to save ounces but only carrying the essentials with almost no luxuries (the camera and journal were probably the only unnecessary items we carried). Other people we met were carrying much heavier low-tech, low-cost equipment (Father and Son team and some of Nathan's gear) or lots of luxuries (group of four). We went for efficiency and never regretted this.