Elevation lost: 2421ft.
Night's Camp: Mowich Lake (elev. 4929ft)

Good breakfasts but cloudy sky, all over. Had two granola breakfasts (Doug) and Aaron one. Just finished breakfast when the drizzle came! Packed up really quickly and headed out at 8:20 AM. Rain never came this morning... drizzle only but necessitated shorts and pack covers. The walk along "Thunder Ridge" was good... then the brutal 2300 foot descent to S. Mowich River.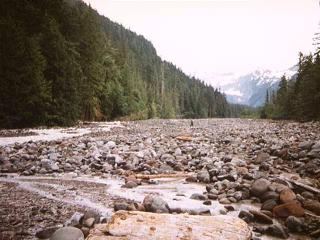 One hiker coming up said he slipped in up to his thighs... not good. The next group was a couple. Both had taken a swim! Even worse. Arrived at the river about 11AM and scouted for a place to cross. We had been told to cross way up stream... no luck, so we picked the widest spot which happened to be right near the washed out bridge. Used my boots to cross saving Aaron's sneakers. Two women follow in their Tevas. The water came up to our knees.
At 12:45PM we were heading up the hill to Mowich Lake... up into the cloud and increasing drizzle. Long haul of perhaps 2000 to 2300 vertical feet. The rain increased as we hit Mowich Lake. Followed the ranger to the station. There we found only one cache! They had 3 stolen in the past week or so. Luckily, the surviving cache was the "better" one -- containing the breakfasts and a bit more food. Moreover, we have much food left over and will survive on the one box. Rain hard at times. The forecast is for rain through Friday. We've gotten our schedule moved up without problems. At dinner there was thick fog with almost a drizzle. The headlamp was like a laser beam. No place to hang the food... Aaron's pack must do.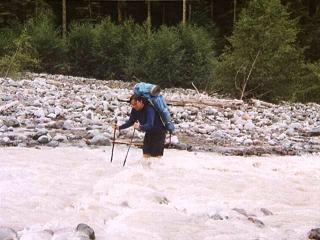 Aaron's commentary: The South Mowich River crossing was a serious one, probably the single biggest obstacle of the whole trip. I scouted for a very long way (and taking most of an hour) upriver without finding any reasonable way to cross. Finally, we decided to just change into shorts and wade across, both using Doug's boots so my sneakers didn't get wet. Doug went first and threw his boots and ski poles back across for me to use. The current was very strong but we managed to get across. We then waited and tried to help/advise two women crossing - they were even more nervous than us and scouted for well over an hour before crossing using our method.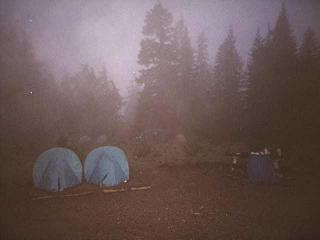 After this long delay, the hike up to Mowich lake through the rain was very wet and tiring. I was exhausted by the time we made it there and then to discover we had had one of our two caches stolen was a major downer. Fortunately, we were able to hang out on the ranger station's porch for a couple of hours till the rain died down and then go set up our camp. We were also able to move up all our campsites a day with no problem. The backcountry ranger we met there was extremely nice and helpful.
Doug's commentary: First, two notes on gear. I brought nylon hiking/climbing pants (similar in feel to cotton) and did not bring sandals. Though I enjoyed the pants, on this day I realized that they liked to collect water off of bushes, bushes with more water on them than in Colorado! Well, it seemed that way. Though they dried out well, it might have been better to bring only shorts, rain pants and synthetic long-johns. Also, though we really only needed sandals for one river crossing, they would have been nice to have. Then again, boots protect the feet from the river's rocks. Aaron and I should say "Hi" to the guy we refer to as "Las Vegas." Another of the many interesting people we met along the trail, he was doing the WT alone, counter- clockwise and was already six or seven days into it. That day we would meet a "counter-clockwise" Boy Scout troop, a group we would meet once again on our last day! The river crossing was a challenge -- fast and very cold thigh deep water at the river's widest point. The arduous climb up to Mowich Lake was pretty dreary. Not only were my boots still wet, but we had persistent drizzle and upon our arrival were met with the news that one of our food caches had been stolen. Note that the rangers had moved the caches from outdoor bear-proof cans into the ranger cabin and that at Sunrise (cache location #2) boxes are always kept indoors. The human animal really is the most dangerous animal.

Photographs

25 minutes out of Golden Lakes.

Looking back to Golden Lakes (Rainier in clouds).

South Mowich River.

South Mowich River (searching for a place to cross).

South Mowich River (the "bridge").

Crossing the South Mowich River.

Mowich camp in the rain and fog.