Day 7: Saturday, August 23rd
Distance Hiked: 12.4 miles
Elevation gained: 2570ft. Elevation lost: 4158ft.
Night's Camp: White River Campground (elev. 4232ft)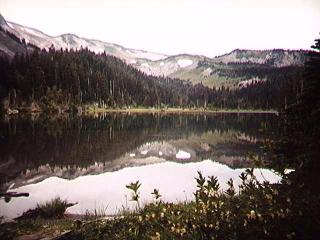 Great day, 12 miles, ? up and 4000 something feet down, skipping Sunrise camp to go to White River camp. After a quick shot of Mystic Lake in the morning, we descended to round the bottom of Winthrop Glacier. The views of lower Rainier were great but the upper reaches were blanketed by clouds.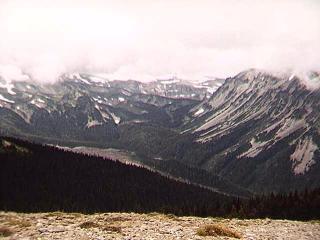 A long, but not too steep, climb lead us to a high pass (Skyscraper) which is above treeline. We could look back at wonderful Mystic Lake, seven miles of trail away. The air was the coolest it had been the entire trip, and the clouds looked like rain.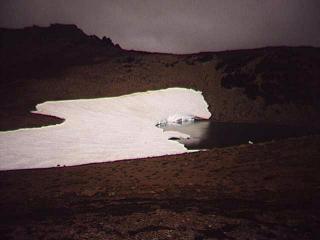 After quickly passing through Berkeley Basin we came to Frozen Lake with our first view of Sunrise. After a quick wash we retrieved our caches. Both had arrived. Excess snacks went to the rangers. With newly burdened packs, we set off for White River... down, down, down. Weary feet got no rest. Car campers abounded and after some confusion we found free camping for Wonderland Trail hikers.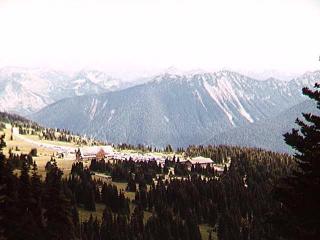 Aaron's commentary: Wonderful day of views and we made great progress - longest day in miles yet. The last few miles down from Sunrise to White River Camp were very hard on my feet and ankles but we had passed the last checkpoint now and were determined to finish. We saw Dave for the last time this day at Frozen Lake but, in the morning, meet a very nice group of four hikers led by an experienced husband and wife pair (John and Sharon) who are doing the whole hike - we will continue to run into them for the next couple of days and they are very helpful to us with advice and offers to share their things.
Doug decides to spend the night out under the stars and doesn't even set up his tent. I set my tent up in the low point of our campsite. We will both regret these decisions by the next morning.
Doug's commentary: Doug's Commentary: This was the first taste of "alpine" hiking we had gotten. At first, leaving Mystic Lake brought a somewhat melancholy feeling for me. I felt that we were more than half way, perhaps not quite in mileage, but emotionally. Looking back this was both true and untrue. The comming days were not predictable and were very different in character from what we had gone through. Today, the more exhilarating portion of the trip would begin, tougher on our bodies and more intense for our minds. Mystic quickly faded into the valley after we passed around the terminus of the Winthrop Glacier. Soon a slow and steady climb brought us closer and closer to cold air and some wind. Skyscraper Pass opened up new vistas, both in the landscape and emotionally. The chilled air was energizing and we marveled as we trekked above treeline for the first time during the trip. The group of four, led by John and Sharon were in their element too. They both had done the trail at least once before but were still awed by the panorama. We paused for a bit with Dave at Frozen Lake, the gateway to Sunrise and civilization before descending to pick up our caches at the ranger station. It should be noted that one can do the trail like us, completed detached except for caches, or with a "support team" like the group of four, which is a good way to go especially if you have a birthday to celebrate! Nothing like a juicy burger at Sunrise (for them). For us, we decided to push on and descend to the White River campground way way down in the valley below Sunrise. Here, I would make a serious transgression and sleep out "under the stars"...
Photographs

Mystic Lake (early morning).

Stream below Mystic Lake.

White River washout (West Fork).

Winthrop Glacier.

Skyscraper Ridge.

Skyscraper Ridge - view is back towards Mystic Lake.

Rainier, in the clouds, from Skyscraper Ridge.

Skyscraper Ridge - view is onward towards Frozen Lake area (over the pass).

Frozen Lake.

Emmons Glacier from above Sunrise.

Looking down on Sunrise.