Elevation lost: 300ft.
Night's Camp: Mystic Lake Camp (elev. 5620ft)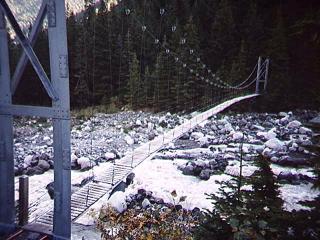 Left Carbon River camp and crossed the Carbon River via a suspension bridge. Soon passed Carbon Glacier but left it for switchbacks in the trees. Incredible panoramic meadows with views of Rainier were a delight. This was a short day with very little descent (only into Mystic Lake). The lake itself was gorgeous and warm - wading, sustained, was a joy. Camp was full, with many "through" hikers. Jo-Anne the ranger (from the station at the lake) checked our permits and gave us advice on the filter and weather. Dinner came soon and before bed we were briefly joined by Dave, of Dames and Moore, who we had met the prior evening.
Aaron's commentary: Our petty disagreements over minor things (how quickly we start in the morning, length and frequency of breaks, etc....) boil over in the morning and we decide to hike apart for the day to calm down. This turns out to be a very good idea and the day apart is good for both of us - we don't come close to having such a blow-up after this day. Also, from this point on, we are more willing to get somewhat more separated and not see each other for an hour or more; previously we had tried to stay very closely together for safety reasons but this really wasn't that necessary. From now on, I just stop whenever I feel like it for a few minutes (I generally preferred more, but shorter, breaks to Doug) and don't worry about Doug getting ahead of me.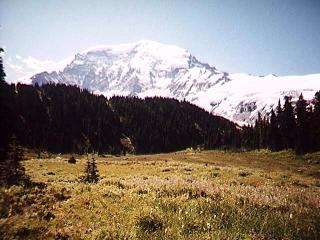 The day's hike is short but really wonderful. Views are very good, if not excellent, and it is, at least for me, just a wonderful day of hiking. Terrain and views are extremely varied (first seeing a glacier for the first miles, then up a pretty stream, then through a long and beautiful meadow, then up to a pass with a nice view). My ankle and knee still bother me but the scenery makes it all worth it - only the last downhill section is really a problem. We wade in the water for a long while and then mess with the water filter which is acting up again in a major way. Eventually, we get it working in an acceptable fashion after removing a filter element which we hope is not that important.
Doug's commentary: We didn't know it then, but this would turn out to be the last day we saw the summit of Rainier, for one of us will anger the sky god on the next day, despite being warned. But this was a good day. It started off badly, with a bit of a spat over how fast to break camp. Given that there are other travelers on the trail, it is not unreasonable to hike separately, which is what we did and it was a good break for both of us. From the Carbon River camp, one soon crosses a suspension bridge and ascends right next to Carbon Glacier. Here at the lower reaches of the glacier, one could see that what starts out as pure and white ends in a monster that uses rocks to grind up the earth. That treat was followed by Moraine Park, offering a view of Rainier unequaled since perhaps St. Andrews Park. From there, a tough little climb up and over a "hill" brings the trail to idyllic Mystic Lake. With time to burn, Aaron and I made use of the warm waters to soothe tired feet. Despite what the guide book says, bugs were not too much of a problem. That night at camp we spent a bit more time with Dave and briefly meet a group of four who we'll get to know better the next day. Unexpectedly, the camp was full... Mystic Lake, some sort of convergence point for travelers.

Photographs

Carbon River bridge.

Carbon River bridge (don't look down!).

Carbon River Bridge.

Carbon Glacier and Rainier.

Mt. Rainier, from just before ridge to Mystic Lake.

Mystic Lake and Mt. Rainier (last good view of Rainier!).