Elevation lost: 275ft.
Night's Camp: Summerland (elev. 5900ft)

Tried to sleep under the stars, but was awakened at 2:45AM by rain! Scrambled and set up the tent; covered both hanging packs. Throughout the rest of the night the rain continued, seemingly at a slow pace. But by morning there were puddles. My tent stayed relatively dry inside but Aaron's soaked through, getting some of his gear wet... sleeping bag and some clothing. Luckily there was an abandoned house where we could make use of a porch and dry ourselves and our stuff out. Unfortunately both my pack cover and pack failed to keep water out -- this journal got wet. By 10:30 we were hiking... in the rain. We traveled the road for about a mile and a half, then paralleled it for another 1/2 or so. Saw another banana slug.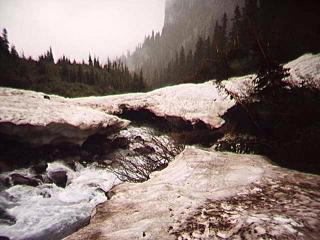 At first the trail went up only moderately but soon it climbed steeply and the rain increased. Upward to "Summerland," an ironic name. At one point the trail was washed out and we had a great detour... wretched willows. After many more switchbacks, we hit Summerland. A shelter was up there, appropriated by four fellows who had a x-country permit. But there was no kicking them out. Bastards! So we ate there and slept in our tents. Only a bit of rain... just enough to make packing up no fun the next morning. There, at Summerland, we were met by Nathan, a father and son, and the four others who had paralleled us from Mystic Lake. No really good views today, all rain and clouds.
Aaron's commentary: Kind of a dreary and poor day, right from the start. My stuff got quite wet, but then it isn't supposed to be able to take being submerged in a puddle :( The deserted cabin was fortunate and helped somewhat but not enough - from this point on some of my things never got dry. This was the first day of what was basically continual rain (of varying intensity) for the rest of the hike.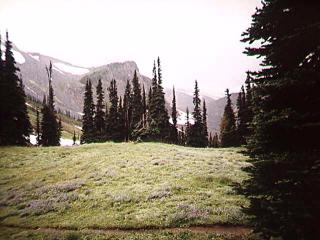 Hike up to Summerland was long, wet and tiring. There was a tough detour over snow and through brambles part way up as well. When we got there, we found ourselves the only ones there and the cabin there empty except for the gear of four men. These four didn't return until dinnertime and were hogging the cabin for three days doing dayhikes and leaving the distance hikers out in the rain. In addition, the park works on a permit system and you are supposed to have a permit for every site - these four, though, only had a cross-country zone permit and shouldn't have been anywhere near the cabin. I think most of us took an instant dislike to these "good old boys" and they were the one and only set of people we met who we really would have wished to do without. In addition to hogging the cabin, they also were leaving garbage all around and had no respect at all for the rangers and the park.
On the good side, we met Nathan, a young man hiking alone on a shoestring budget but also very experienced, and a father and son pair. The father used to be in the army and is using mostly old army equipment which is very heavy (his pack is like 70 pounds - the most of anyone we meet on the trail) and even his young son is carrying a very heavy pack. We are worried whether his son will be able to manage the next day when we will have to climb up over many snowfields.
Doug's commentary: The dream: to bask in the warm rays of the sun at Summerland. Alas, cold hard reality bites us on the backside even before we get there. "Must sleep out under the stars one night", I thought. But in the wee hours of the morning the drizzle began. "Give it five minutes, it'll stop", I thought. But when those five minutes and more were up it was raining. And so went the rest of the night. Aaron woke up in a puddle and much of his gear was wet, a condition we would experience for the rest of the trip. "Drying out" became a relative term. After borrowing a porch of an abandoned cabin we set out down the road for one and a half miles, the longest stretch of flat on the entire Wonderland Trail. Back on the trail, we climbed up through the rain and mist, crossing some snow for the first time. We knew there was a shelter at Summerland and were greatly looking forward to it. But it was not to be. Taken by four fellows who had no right to be there... we suspect that they got cross country permits knowing that they would instead use the shelter. Pretty despicable. But we persevered and were soon joined by John and Sharon, their two compatriots, Nathan, and a father and son. Tomorrow, we would strike out into the cold wind and snow.
Photographs

White River.

Rerouted trail to Summerland (in the cold rain).
Little Tahoma and Emmons Glacier from Summerland.