Elevation lost: 2620ft.
Night's Camp: Carbon River (elev. 3200ft)

We get up late; the sky is partly cloudy which means no rain for now. This should be an easy day... not too many miles and mostly downhill, with an 800 foot gain spread out over the last 2.9 miles. The volunteer at the ranger station suggests the more challenging part of the loop (two ways to go today) or to at least take a side trip to Tolme Peak. We do neither... waiting for the sun to come and dry our stuff and then taking only the easier path.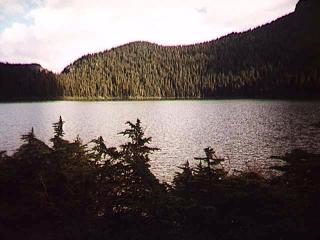 As we hike by Mowich Lake, we marvel at its emerald green beauty. It is by far the largest lake we've come by. Soon we're at Ipsut Pass. Initially the descent is quite steep, with thick wet bushes obscuring the slick rocks beneath our feet. There are some spills. But soon the trail "levels" out to steepness with which we are used to... not as bad as foretold by some. The descent totals roughly 3000 feet. Aaron nurses a bad left foot and right knee, but things are ok.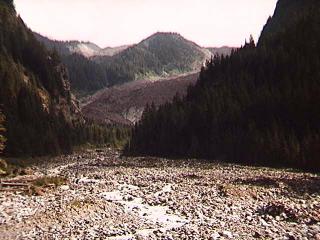 At the bottom, the trail turns sharply to the right (Southish) and we slowly progress up toward Carbon Glacier. The bugs have been good to us. A garter snake is spied. Some others from prior days are frogs, a pika (today) and a marmot. No bear or cougars or anything really exotic. As the valley widens we see the suspension bridge across Carbon Glacier. To our surprise the camp comes early. Here we bathe. The camp looks bad but turns out nicely. Tomorrow we climb... high up next to the glacier to Mystic Lake.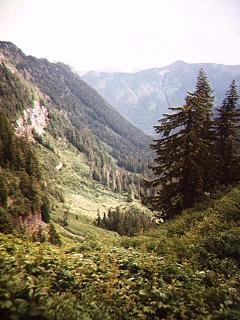 Aaron's commentary: This day should have been easy; short and almost all downhill, but it certainly was not for me. It started off well enough with some very welcome sun which let us dry our tents and gear, only costing us a late start at 10am. On the way down from Ipsut pass my left ankle and right knee start to bother me and become worse. I end up wrapping my ankle in our ace bandage and also borrowing Doug's poles for a while and this helps a bit but I am in pain with every step, particularly downhill, which usually is far easier for me.
My left ankle and right knee will continue to bother me for the rest of the trip and, because I favor them, my other ankle and knee eventually become something of a problem as well. This first day of the problem is the worst psychologically, though, as I worry I may have to bail out at Sunrise.
On a positive note, we meet Dave here and will see a bunch of him for the next couple of days. He is hiking alone as his partner bailed on him at the last minute. He hikes fairly slowly but steadily and we are impressed he kept going despite his partner not going. He is obviously looking for company and it is good for us as well as we have started to get somewhat on each other's nerves after 6 straight days together all the time.
Doug's commentary: There were two ways to go on that day, both starting at Mowich Lake and ending up at Carbon River camp. The route we did not take, the southern route, goes through Spray Park and is apparently much more scenic, being high and "up closer" to Rainier. But to get there one has to climb an additional 2000 feet and travel an extra 2.2 miles. We also skipped a side trip to Tolme Peak, which may have offered great views of Rainier. Nonetheless, our route was quite enjoyable. We got to see more of Mowich Lake than the Spray Park route would have afforded, more of Rainier's wonderful forests and more of Carbon River which has carved out a very wide, stony path.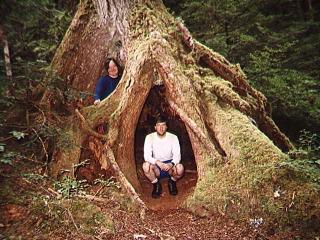 A really neat feature of our route was the "Bear Tree". A tree you can stand up under... like a nifty little hut. Most of the camps are positioned near streams that are not silty, so they are safe to pump from without clogging one's filter. It is at the Carbon River camp that we met Dave (can't remember his last name but he works for Dames and Moore as an expert in Environmental Law, I believe.) Very friendly, intelligent, well educated and interesting to talk to; Dave was one of the "old school" of backpackers. Like Aaron, he was one of the few with an external frame pack and he carried minimal "gadgetry". Very light and simple... a good way to go! We would share the next two days with him, off and on.
Photographs

Flowers at Mowich Lake.

Mowich Lake.

Surprise shot of Doug. Ack!.

View down from Ipsut Pass.

Stream to Ipsut camp.

Falls.

The "Bear Tree".
Carbon Glacier (and Carbon River).