Day 10: Tuesday, August 26th
Distance Hiked: 13.5 miles
Elevation gained: 2020ft. Elevation lost: 2335ft.
Night's Camp: Cabin just outside the park.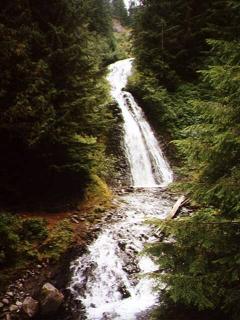 Today is the day we will finish, but we don't know it yet! Some rain during the night but the morning is not too bad. Gray skies and wet tent to pack. Nathan hikes with us for several miles. He'll be going to Snow Lakes. He leaves us at the start of the real climbing, but not before we pass Box Canyon. At ? Falls the sky turns really dark -- weird! Then there is thunder. Hard rain falls. We put on all our rain gear. Hail falls. Everything is going to get wet... feet especially. It takes a long time to get to Reflection Lakes where we are cold, despite the rain lessening. We have more of a breeze in the open area. Soon we are descending to Paradise River, our planned camp site. After some debate we decide to push on, hoping to be able to get a ride to Paradise and hoping to get a room there. About 1.7 miles from Longmire I race ahead to try to get to the Ranger Station before they close. I'm five minutes late but the ranger is still there. He suggests some poor choices. After Aaron arrives we're able to get a place in Ashford, which is right outside the Park entrance. We're lucky when two Germans give us a ride. The long hot shower feels great. We had no "victory shot" nor any great celebration. This part of the journey is over and will take time to sink in. Now to get back to Seattle!
Aaron's commentary: The first few hours of this day were very nice. We hiked together with Nathan and made good progress, running into and criss-crossing with a large group of about 10 women out for a day hike. Eventually, Nathan left us to go towards his camp at Snow Lakes and we would not see him again. Suddenly, though, it started pouring on us and kept raining till near the very end of the day. With our stuff already wet from the past several days of rain, this is a problem. We push on and eventually reach Reflection Lakes below Paradise. We barely stop for a second before pushing on to our planned camp at Paradise River Camp. When we arrive, though, we have to make a decision on whether to push on another 3.5 miles to Longmire (and somehow find a place to stay) or stay at the camp. Doug is inclined to stay (but willing to keep going) but I really want to get out of the rain and to a nice room at the Paradise Inn - we decide to push on and make it to Longmire just after it starts to shut down.
After 10 days on the trail and three straight days of rain and a very long day's hike, we are wet and exhausted and look and are a total mess. Doug tries to get us a room at Longmire and Paradise but is told they are both full - we wonder if this is true or they just think we look such a mess they don't want to deal with us. I decide to see if I can have better luck after cleaning up a little bit in one of the bathrooms. I quickly manage to find a room at the Paradise Inn down the road just outside the park but somehow we have to get there and I am really not up to the 4 mile hike down the road. After waiting a while unsuccessfully trying to hitchhike, though, we do start walking - fortunately, luck smiles upon us and a pair of Germans (father and son) stop and pick us up. This is an amazingly nice thing for them to do as they can barely fit us and our gear in (the son has to squeeze into a tiny space in the back) and we look a mess. We get to the inn and grab a cabin for the night. The shower and comfortable bed are wonderful. We forget about dinner but, after a rest, I get to work cleaning my gear in the shower and putting it all out to dry in front of the very powerful heater and on lamps. By the morning, we will look somewhat like respectable human beings.
Doug's commentary: The last day. Nothing spectacular nor triumphant. Just a long haul in the cold and rain. That day I began to feel the feet and knees, which had done well until then. Racing the last mile or so did not help. But it was done. I took few pictures due to the rain but wish I had taken more. We parted with Nathan who had many more days to go (think he started a Mowich Lake). He would be spending the night at Snow Lakes. One surprise... we meet the Boy Scout troop from day four, just before our arrival at Mowich Lake. At that point we thought back and remembered "Las Vegas" but he probably finished a day or more ago at Longmire. The two ladies from Devil's Dream camp - won't get to see them again either. The "six-dayers", well, they finished long ago. All the people and all the miles cannot be recaptured. It was not a sad time nor joyous. We were done.
Photographs

Stevens Creek.

Stevens Creek.

Martha Falls, on way up to Reflection Lakes.