Aftermath
Aaron's commentary: We get up in the morning and must hitchhike our way back into the park to Paradise to get our bus. We walk the short distance to the park entrance and start thumbing it. A Ranger's car stops by and we are slightly nervous as, theoretically, hitchhiking is illegal. He talks with the person at the gate a while and then drives over to us. It turns out, though, he is very nice and offers us a ride to Longmire. On the way, we get to talking with him and mention we really are just going by Longmire to get our duffel bag of stuff we left with Bernie Holien and then need to get to Paradise to get our bus. He is a friend of Bernie's as it turns out, and is incredibly nice enough to stop at Longmire, wait for Doug to pick up our stuff and leave Bernie a small gift of dried apples, and then drive us on to Paradise.
We have a couple of hours to wait at the Paradise Inn for our bus and relax in front of the huge fireplace reading the paper and my book. Amazingly, we also have the good fortune to run into the father and son pair we met on the trail who have also finished their (shorter) hike and are shortly returning home. The married couple (John and Sharon Farber) of the group of four are actually staying at the Paradise (as they had told us they planned to do) and we see them that morning as they arrive at the Inn and are checking in. They give us their addresses and encourage us to contact them if we return to Rainier. Eventually, our bus arrives and we get on board.
This driver isn't nearly as nice or interesting as Brad was but he gets us back to the airport (after a quick stop for soda and chocolate on the way down). At the airport we arrange to rent a car, go and pick it up, and then get on the road north towards Canada. We stop eventually at a nice town, get a recommendation for dinner, go out and eat and then grab a room at a Day's Inn. Our flights aren't till Sunday so we have 3 more days to play with.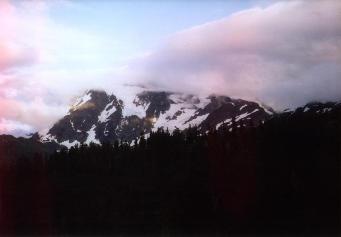 The first day we drive up to Vancouver, Canada and take a quick trip through the city before returning to the US and going for a quick visit by car to North Cascades National Park where the views are really beautiful, the rolling clouds only seem to enhance the beauty. Finally, we return to the inn (and restaurant) of the previous night.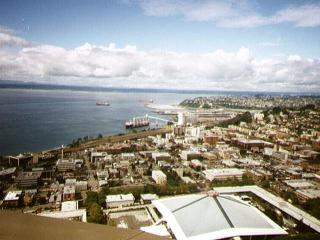 The next day we spend the day in Seattle doing the tourist things - we park near and go up the Space Needle at an outrageous cost, then visit the REI "mother ship" (REI's main store - huge free-standing climbing wall and a very nice place), wander around the city including the waterfront and then into the city's center, have very delicious ice cream sundaes for lunch, and then take the monorail back to the Space Needle and our car before leaving Seattle and heading towards Olympic National Park.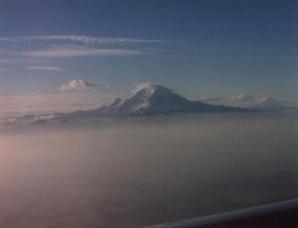 On our final free day, we go into Olympic National Park and up Hurricane Ridge, after giving away our excess fuel to some Danish hikers, and mailing our camp stove and fuel bottles back to Colorado. The views are nice and we find a bunch of tame deer. We then return to Seattle, drop off the rental car, and go to our hotel in Seattle. I have to get up super-early the next morning to get my flight but take a very nice swim and hot-tub soak at the hotel that evening. I get a nice shot of Rainier from the plane as we fly out.
Doug's commentary: Meeting the father, son, John and Sharon at the Paradise Inn was a real treat, as was meeting Dave, Nathan, and Rangers Bernie Holien and his friend on the law enforcement side (who gave us a ride). We wish them all the best in their mountain adventures and other aspects of their lives. Good people!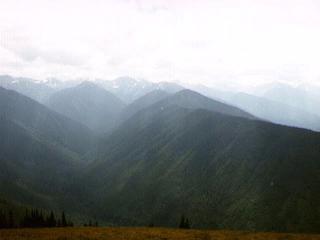 Hiking the Wonderland Trail was a great experience. Ninety-three miles and something more than twenty-thousand feet of elevation gain do not describe it. Any description should include the variety of terrain, the plant life, the animal life, the weather, the people, the trials and tribulations and the triumphs and the joys.
With our spare days we traveled first up to Vancouver by rental car, returning with a side trip through the North Cascades and then another pair of side trips to the city of Seattle and finally the Olympic Peninsula. Each of those places could offer further adventures of their own, but are better left for another time.

Photographs
North Cascades National Park

Bagley Lakes.

Mt. Baker Wilderness.

Mt. Baker Wilderness.

Mt. Baker Wilderness.

Mt. Shukstan(?).

Mt. Shukstan(?).

View down on a lake in the North Cascades - shot by Aaron.

Mt. Shukstan(?) in the clouds - shot by Aaron.
Seattle

Central Seattle from the Space Needle.

View Northwest from the Space Needle.

View Southwest from the Space Needle.
Olympic National Park

Hurricane Ridge - "tame" deer.

Mount Olympus (way back on left in clouds).

View from Hurricane Ridge.

View from Hurricane Ridge.

View from Hurricane Ridge.
Rainier

Mt. Ranier above the clouds - shot by Aaron from the plane.