Carma post by Defective Yeti | Main | Google again - Google Earth
July 05, 2005
And the Sky Full of Stars III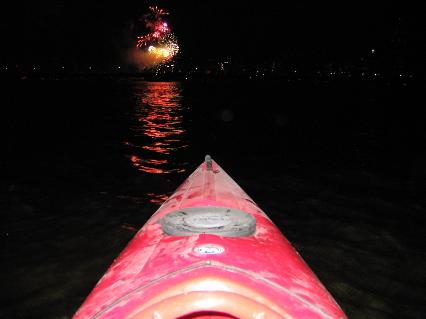 Well, 2nd year on my kayak but third year posted here.
Went out again in my kayak to watch the fireworks from just across the river from the barge where they launch them and had a great time. Absolutely gorgeous with fireworks filling my entire field of vision. Just an incredible experience that I incredibly recommend to anyone who can do it - so much nicer than watching in the middle of crowds from the shore.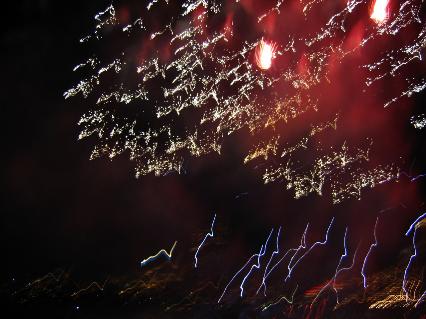 This post definitely does feel like a copy of my one from last year, though, as I again want to try to get a group together for this next year. I tried to get a couple people to come this time but they had logistical problems - definitely does take a bit of planning. Even for me, things were a pain this year as they have completely changed things at the Magazine Beach river edge where I used to put in and I had to go much farther down to a spot not nearly as good for launching. For take-out, I followed a couple of canoers to a good spot by the new BU boathouse but this was only a good spot last night when the roads were closed and would not work at all normally. I also continue to have big problems with the two wheel cart I use to take the boat to/from the river and really want to work on improving that. In the picture above, you can clearly see that this is my first trip out this year, given all the dust on the prow (that picture was taken as I paddled down and one brief burst of fireworks happened - not the main event). Once at the fireworks point, I was just way too close to take good pictures and am a terrible photographer, anyway. Did try out the fireworks mode on my camera for interesting results.
Posted by aarondf at July 5, 2005 02:25 PM
Comments
Posted by: Serg

at June 8, 2006 10:07 AM
Post a comment
Thanks for signing in, . Now you can comment. (sign out)
(If you haven't left a comment here before, you may need to be approved by the site owner before your comment will appear. Until then, it won't appear on the entry. Thanks for waiting.)