Tichu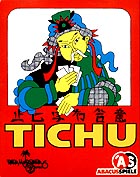 Tichu is a partnership card game designed by the folks at the Swiss game company Fata Morgana. Decks are produced by both Fata Morgana and Abacus Spiele and differ mainly in the color of the card backs. The Abacus Spiel box also contains a second deck of cards but since this doesn't include the four special cards, it is not helpful for play of the basic game.

The deck is a 56 card deck which is basically just like a regular 52 card deck plus 4 special cards (Dragon, Phoenix, Dog and 1/Sparrow/Mah Jong). The suits are also changed to Jade (Green), Sword (Black), Pagoda (Blue) and Star (Red).

The game is a partnership game where each player's primary objective is to get rid of all of his cards and 'tricks' are played in a 'climbing' style similar to that used in Zheng Shangyou, Zheng Fen, Big Two, The Great Dalmutti, Frank's Zoo and Asshole.
This game has become extremely popular with my group and others and I highly recommend you give it a try if you are interested in partnership card games. It is quite different from any others I have played. To quote Stuart Daggar's review in Counter Magazine, "Tichu is much more of a heavyweight game than Zoff im Zoo, Karriere Poker and so on. They are all either party games or end of evening fillers. This is the sort of game that will keep card players happy for a couple of hours or more. There is much more to the tactics and hand management than there is in the simpler games and the scope for partnership cooperation is real."
Specific documents (mostly written by Aaron)
Compiled by:
Aaron D. Fuegi (aarondf@bu.edu)


Please send Aaron EMAIL if you have any comments on or suggestions for these pages or if you just want to say hi.

Alternatively, you can sign in to the House's Guestbook.

To return to the Main House